A Quiet Kind of Thunder is Sara Barnard's newest novel, and I was highly anticipating its release after hearing nothing but praise for her previous book 'Beautiful Broken Things'. I was incredibly thankful to be sent a proof copy of this book by Pan Macmillan and I jumped straight in, instantly becoming enthralled by the emotional and gripping storyline. It's ultimately a story of self-discovery, breaking boundaries and defining who you are, and I honestly loved every minute of it. Keep reading to hear my in-depth review of this book!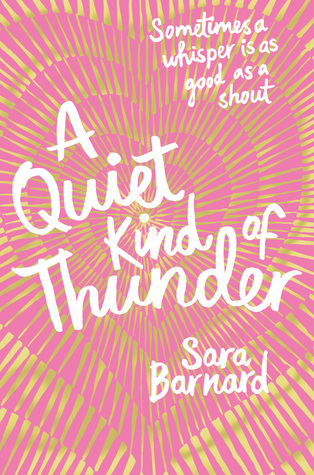 Book Title: A Quiet Kind of Thunder
Author:
Sara Barnard
Genres:
Contemporary, Romance, Mental Health
Summary
Steffi doesn't talk, but she has so much to say. Rhys can't hear, but he can listen. Their love isn't a lightning strike, it's the rumbling roll of thunder.

Steffi has been a selective mute for most of her life - she's been silent for so long that she feels completely invisible. But Rhys, the new boy at school, sees her. He's deaf, and her knowledge of basic sign language means that she's assigned to look after him. To Rhys, it doesn't matter that Steffi doesn't talk, and as they find ways to communicate, Steffi finds that she does have a voice, and that she's falling in love with the one person who makes her feel brave enough to use it.
MY THOUGHTS
Steffi
has selective mutism - something I didn't even know about before reading this novel. I was thoroughly educated whilst reading and witnessed how it affected Steffi's ability to communicate and her view of the world, so seeing her slowly start to overcome her selective mutism was beautiful and fascinating. We also see her struggle with multiple anxiety diagnoses and panic attacks, and getting an insight into these really opened my eyes. She's ultimately a fighter and strong character who is determined to follow her dreams and prove everyone wrong about the presumptions of her, and I admire this so much.
Rhys
is a new pupil in a school of teenagers who've known each other for 5 years, and alongside being deaf, he feels like an outsider and not belonging in the hearing world. His deafness was represented in a very accurate and moving way, highlighting the daily struggles and issues he has due to it. I was enlightened about the use of BSL and the representation of the D/deaf community was something I'd never seen included in other YA books.
The other characters we witnessed were equally as developed and enhanced the story in a positive way. Some of my favourite scenes were those with Steffi and Tem, as Sara Barnard managed to perfectly capture the dynamic of teenage friendships, and it was refreshing to see such a strong bond and dependence on one another in a genre that rarely focuses on this aspect. I also loved seeing how Steffi coped with family issues like the death of her half-brother and divorce of her parents, and how all of these different characters influenced her view of the world.
It's a common worry with novels, particularly in the young adult category, that characters will be one-sided and ultimately be consumed by a personality trait. Although Steffi and Rhys's story focuses heavily on mental illness and the D/deaf community, both characters didn't become these features. Instead, they were multifaceted and well-developed, feeling much more like real people than characters.
This novel is primarily a contemporary romance and so the budding relationship between Steffi and Rhys plays a large role. Everything is well-developed, realistic and builds up nicely, showing both the joys and obstacles that they're faced with. Just reading about the romance put me in a good mood - it was honestly adorable! I was initially worried that this novel would follow the common YA trope of romance fixing everything, especially since this novel deals with mental illness and other sensitive subjects, but I can confirm that this didn't happen and Sara handled it in an informed and serious way.
A Quiet Kind of Thunder is definitely a diverse novel, despite being primarily a contemporary. Racism is explored as an underlying theme, with Tem being Somalian and Rhys being biracial, which was a step in the right direction for YA fiction which often only includes white characters. We get to see mental illnesses and the D/deaf community in depth, which really educated me, and there's even elements of feminism and challenging gender roles embedded throughout. Sara Barnard has done an excellent job at ensuring all aspects of society are represented in an accurate way, and I applaud her for this brave move.
Sara provides a raw and truthful insight into teenage lives, so much so you'd think that she was a teenager herself writing from personal experience. She really manages to capture what it's like to be a teenager in this breathtaking yet emotional book. Her writing is littered with humour and lighthearted moments that made this an enjoyable read, yet a more serious tone is adopted to make a statement during the more important moments. Sara had me both laughing and crying along with the characters and I was overwhelmed by how immersed I became in the world of Steffi and Rhys.
OVERALL OPINION

Overall, this novel was very eye-opening and uplifting, educating me about the world we live in yet hardly see represented in young adult novels. The ultimate message, which is to overcome the struggles in your life and to discover your strengths, is definitely a mantra to live by and really proved to be inspirational. With its diverse characters, enjoyable storyline and crafted writing, this is a novel that I'd urge everyone to read.


I hope this review was helpful, and I'd love to know your opinions of A Quiet Kind of Thunder if you've already read it. Thank you for reading this blog post and I'll be back next Sunday with a new one, so I'll see you then!
Love from Daisy x