Fantasy is probably my favourite genre to read from, and I often find myself gravitating towards novels with paranormal features, so I have plenty of titles to recommend. After my
Young Adult Contemporary Recommendations
post was extremely well-received, I've been planning a follow-up and now is the perfect time to do so. I was very selective, only choosing the books that I thought were the best or had the most potential, so hopefully there'll be something on this list for you.
City of Glass by Cassandra Clare
To save her mother's life, Clary must travel to the City of Glass, the ancestral home of the Shadowhunters - never mind that entering the city without permission is against the Law, and breaking the Law could mean death. To make things worse, she learns that Jace does not want her there, and Simon has been thrown in prison by the Shadowhunters, who are deeply suspicious of a vampire who can withstand sunlight. As Clary uncovers more about her family's past, she finds an ally in mysterious Shadowhunter Sebastian. With Valentine mustering the full force of his power to destroy all Shadowhunters forever, their only chance to defeat him is to fight alongside their eternal enemies. But can Downworlders and Shadowhunters put aside their hatred to work together? While Jace realizes exactly how much he's willing to risk for Clary, can she harness her newfound powers to help save the Glass City - whatever the cost?
I've mentioned the Mortal Instruments series by Cassandra Clare hundreds of times on my blog, so I'm going to keep this short and sweet. It is perfect if you're looking for a high-fantasy series filled with lots of magic and fantastical elements, whilst still containing mystery, action and romance. Taking place in an urban New York City, this series contains paranormal characters that are both relatable and don't conform to common stereotypes, making it an interesting and unique read. It's no secret that I love Cassandra's writing and the level of detail she employs, with City of Glass probably being my favourite novel of hers so far.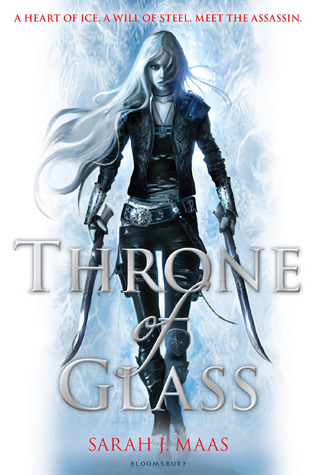 Throne of Glass by Sarah J Maas
In the dark, filthy salt mines of Endovier, an eighteen-year-old girl is serving a life sentence. She is a trained assassin, the best of her kind, but she made a fatal mistake. She got caught. Young Captain Westfall offers her a deal: her freedom in return for one huge sacrifice. Celaena must represent the prince in a to-the-death tournament—fighting the most gifted thieves and assassins in the land. Live or die, Celaena will be free. Win or lose, she is about to discover her true destiny. But will her assassin's heart be melted?
I read this book over summer and instantly fell in love with the entire world that Sarah had crafted. It truly came to life before my eyes and I was immersed in the story, being emotionally tied to the characters like I knew them in real life. I love the building tension and excitement in this novel through the competition setting, and it was an easy book to sink my teeth into. I'm eager to continue with this series so I can find out what happens next, but I'd definitely urge you to get onboard and read this novel.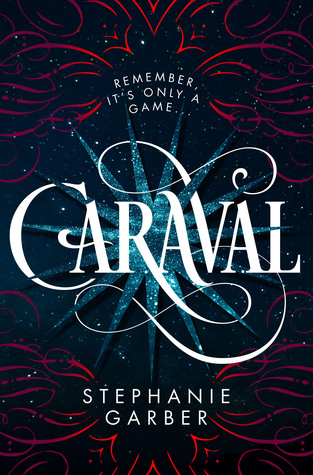 Caraval by Stephanie Garber
Scarlett has never left the tiny island where she and her beloved sister, Tella, live with their powerful, and cruel, father. Now Scarlett's father has arranged a marriage for her, and Scarlett thinks her dreams of seeing Caraval, the far-away, once-a-year performance where the audience participates in the show, are over. But this year, Scarlett's long-dreamt of invitation finally arrives. With the help of a mysterious sailor, Tella whisks Scarlett away to the show. Only, as soon as they arrive, Tella is kidnapped by Caraval's mastermind organizer, Legend. It turns out that this season's Caraval revolves around Tella, and whoever finds her first is the winner. Scarlett has been told that everything that happens during Caraval is only an elaborate performance. But she nevertheless becomes enmeshed in a game of love, heartbreak, and magic with the other players in the game. And whether Caraval is real or not, she must find Tella before the five nights of the game are over, a dangerous domino effect of consequences is set off, and her sister disappears forever.
I included this novel in my
Top 10 Upcoming Book Releases of 2017
, and I went out to buy it almost instantly after writing the post, as I was hooked by the synopsis. I'm currently halfway through it, so I can't give you a full view of my thoughts, but so far I'm really enjoying it. It's a fast-paced, fresh read that has a unique and tasteful feel compared to other YA novels. It's also been described as the biggest YA release of the year, and with a title like that you certainly can't avoid reading it.
Northern Lights by Philip Pullman
Here lives an orphaned ward named Lyra Belacqua, whose carefree life among the scholars at Oxford's Jordan College is shattered by the arrival of two powerful visitors. First, her fearsome uncle, Lord Asriel, appears with evidence of mystery and danger in the far North, including photographs of a mysterious celestial phenomenon called Dust and the dim outline of a city suspended in the Aurora Borealis that he suspects is part of an alternate universe. He leaves Lyra in the care of Mrs. Coulter, an enigmatic scholar and explorer who offers to give Lyra the attention her uncle has long refused her. In this multilayered narrative, however, nothing is as it seems. Lyra sets out for the top of the world in search of her kidnapped playmate, Roger, bearing a rare truth-telling instrument, the alethiometer. All around her children are disappearing—victims of so-called "Gobblers"—and being used as subjects in terrible experiments that separate humans from their daemons, creatures that reflect each person's inner being. And somehow, both Lord Asriel and Mrs. Coulter are involved.
This book was one of the first young adult fantasy novels that I became acquainted with and it really opened my eyes to the genre. I was 10 years old on holiday in Spain and I'd finished all of my books when I came across a copy of The Amber Spyglass in a supermarket. Although some of the novel was too complex for my age and the darker aspects went over my head, I was immediately enthralled by the captivating story of Will and Lyra. The entire series is beautifully written, and with it recently being announced that Philip is writing a follow-up series, now is the perfect chance to read this series.
Hush Hush by Becca Fitzpatrick
Romance was not part of Nora Grey's plan. She's never been particularly attracted to the boys at her school, no matter how hard her best friend, Vee, pushes them at her. Not until Patch comes along. With his easy smile and eyes that seem to see inside her, Patch draws Nora to him against her better judgment. But after a series of terrifying encounters, Nora's not sure whom to trust. Patch seems to be everywhere she is and seems to know more about her than her closest friends. She can't decide whether she should fall into his arms or run and hide. And when she tries to seek some answers, she finds herself near a truth that is way more unsettling than anything Patch makes her feel. For she is right in the middle of an ancient battle between the immortal and those that have fallen - and, when it comes to choosing sides, the wrong choice will cost Nora her life.
This is a love-hate series for many and I've heard some mixed reviews over the past few years. I personally really enjoyed it, hence why it's on this list, and I think it's a perfect post-Twilight read that'll open your eyes to other paranormal romance series. The series definitely gets better as it progresses, with Silence being my favourite book, but there's no doubting that this novel contains many unexpected events and plot twists that'll leave you shocked.
---
I hope you liked seeing what fantasy novels I'd recommend that you should read, but as I said earlier, I've read countless novels from this genre and so there are many more I could suggest. I'd love to know what fantasy novels you enjoyed reading, so why not leave them in the comments below? Thank you very much for reading and I'll see you next Sunday with a new post.
Love from Daisy x