Last year, I wrote a blog post about some of the most notable and exciting book launches throughout the year. Not only did I really enjoy putting the post together, but it was extremely well-received and became one of my most-viewed posts for quite some time. After flicking through Goodreads and watching some Booktube videos, I realised that 2017 will be filled with some equally anticipatory new novels, and so I thought I'd share ten upcoming book releases that you need to look out for.
FANTASY AND SCI-FI LAUNCHES
Lord of Shadows (The Dark Artifices, #2) by Cassandra Clare
Released on May 23rd 2017
Emma Carstairs has finally avenged her parents. She thought she'd be at peace. But she is anything but calm. Torn between her desire for her parabatai Julian and her desire to protect him from the brutal consequences of parabatai relationships, she has begun dating his brother, Mark. But Mark has spent the past five years trapped in Faerie; can he ever truly be a Shadowhunter again? And the faerie courts are not silent. The Unseelie King is tired of the Cold Peace, and will no longer concede to the Shadowhunters' demands. Caught between the demands of faerie and the laws of the Clave, Emma, Julian, and Mark must find a way to come together to defend everything they hold dear—before it's too late.
Lady Midnight, the first novel in The Dark Artifices series, was extremely popular when it was released so I can guarantee many people have been eagerly awaiting this second instalment. Lots of questions remained unanswered at the end of the previous novel, and everyone is waiting to see what'll happen with the parabatai relationship between Emma and Julian, so hopefully all of this will be explained. If you're a fan of paranormal fantasy novels that include action, romance and adventure, then this is definitely the series for you. Make sure you read Lady Midnight if you haven't already, as Lord of Shadows is set for release on May 23rd.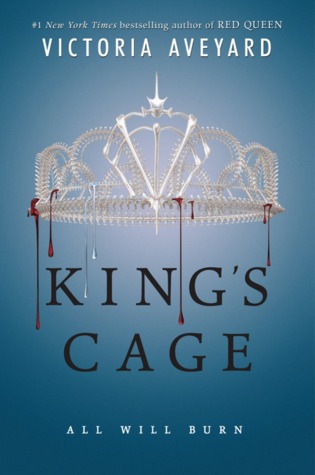 King's Cage (Red Queen, #3) by Victoria Aveyard
Released on February 7th 2017
Mare Barrow is a prisoner, powerless without her lightning, tormented by her lethal mistakes. She lives at the mercy of a boy she once loved, a boy made of lies and betrayal. Now a king, Maven Calore continues weaving his dead mother's web in an attempt to maintain control over his country—and his prisoner. As Mare bears the weight of Silent Stone in the palace, her once-ragtag band of newbloods and Reds continue organizing, training, and expanding. They prepare for war, no longer able to linger in the shadows. And Cal, the exiled prince with his own claim on Mare's heart, will stop at nothing to bring her back. When blood turns on blood, and ability on ability, there may be no one left to put out the fire—leaving Norta as Mare knows it to burn all the way down.
The Red Queen series has taken over the YA community and everyone seems to be obsessed with Victoria's novels, so this release will definitely be a popular one. For some reason I was convinced that this was a duology, so you can imagine how excited I was to hear about King's Cage. With the synopsis claiming that allegiances are tested on every side, it's evident that it'll be a tense yet exciting read. If you're a fan of the Red Queen series then you only have to wait 2 days to get your hands on this title, as it's released on February 7th.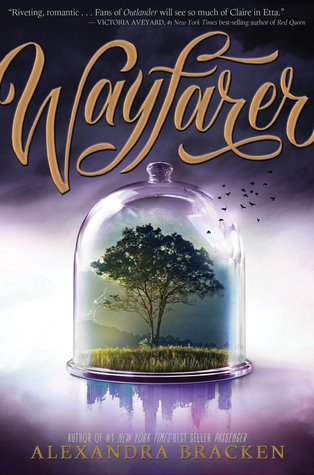 Wayfarer (Passenger, #2) by Alexandra Bracken
Released on January 3rd 2017
All Etta Spencer wanted was to make her violin debut when she was thrust into a treacherous world where the struggle for power could alter history. After losing the one thing that would have allowed her to protect the Timeline, and the one person worth fighting for, Etta awakens alone in an unknown place and time, exposed to the threat of the two groups who would rather see her dead than succeed. When help arrives, it comes from the last person Etta ever expected—Julian Ironwood, the Grand Master's heir who has long been presumed dead, and whose dangerous alliance with a man from Etta's past could put them both at risk. Meanwhile, Nicholas and Sophia are racing through time in order to locate Etta and the missing astrolabe with Ironwood travelers hot on their trail. They cross paths with a mercenary-for-hire, a cheeky girl named Li Min who quickly develops a flirtation with Sophia. But as the three of them attempt to evade their pursuers, Nicholas soon realizes that one of his companions may have ulterior motives. As Etta and Nicholas fight to make their way back to one another, from Imperial Russia to the Vatican catacombs, time is rapidly shifting and changing into something unrecognizable… and might just run out on both of them.
Alexandra Bracken is back with the final book in the Passenger duology, so if you were a fan of the first book then you definitely need to read this. Alexandra Bracken became a well-known name in the YA community after The Darkest Minds was released, and since then her novels have been incredibly popular. This duology has got something for everyone, whether you like historical fictions, time travel or even elements of fantasy, and since it was released on January 3rd, it's available to read right now!
NEW, UPCOMING SERIES'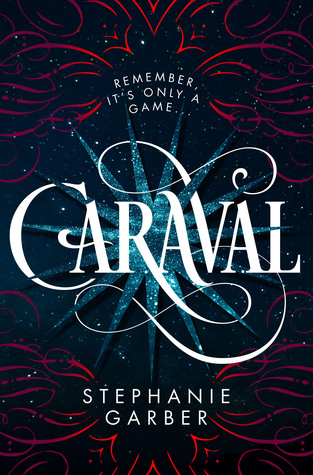 Caraval (Caraval, #1) by Stephanie Garber
Released on January 31st 2017
Scarlett has never left the tiny island where she and her beloved sister, Tella, live with their powerful, and cruel, father. Now Scarlett's father has arranged a marriage for her, and Scarlett thinks her dreams of seeing Caraval, the far-away, once-a-year performance where the audience participates in the show, are over. But this year, Scarlett's long-dreamt of invitation finally arrives. With the help of a mysterious sailor, Tella whisks Scarlett away to the show. Only, as soon as they arrive, Tella is kidnapped by Caraval's mastermind organizer, Legend. It turns out that this season's Caraval revolves around Tella, and whoever finds her first is the winner. Scarlett has been told that everything that happens during Caraval is only an elaborate performance. But she nevertheless becomes enmeshed in a game of love, heartbreak, and magic with the other players in the game. And whether Caraval is real or not, she must find Tella before the five nights of the game are over, a dangerous domino effect of consequences is set off, and her sister disappears forever.
I'm already betting that this will be one of the biggest YA novel releases of the year, as I've heard nothing but constant praise for it on Twitter, Youtube and other blogs. Being the first book in a duology and also Stephanie's debut novel, I can guarantee that there'll be lots of exciting ideas and lovable characters to indulge in. From what I've heard already (despite only being published on January 31st), this book is a must-read and I'm looking forward to giving it a try.
Iron Gold (Iron Gold, #1) by Pierce Brown
Released on August 22nd 2017
When you break the chains, what do you unleash? The new trilogy takes place after the end of Morning Star and will center on the consequences of the hero's actions as well as on those folks now living and growing up in a landscape that's had its ruling order shattered.
Pierce Brown really skyrocketed to fame in the YA community recently, partially due to being labelled the 'hottest young adult author in the world' and also due to his incredible Red Rising trilogy. I've seen many people rave about his books, especially Christine and Natasha who are firm fans, so that's a clear indication that his novels are worth reading. Iron Gold is the first in a sequel series, providing us with a look at how life ends up for the characters, as well as new plotlines and story arcs to keep things interesting. I'd highly recommend purchasing this book when it's published on August 22nd if you're up-to-date with the Red Rising trilogy, as it sounds like it'll be an amazing read.
Carve the Mark (Carve The Mark, #1) by Veronica Roth
Released on January 17th 2017
On a planet where violence and vengeance rule, in a galaxy where some are favored by fate, everyone develops a currentgift, a unique power meant to shape the future. While most benefit from their currentgifts, Akos and Cyra do not—their gifts make them vulnerable to others' control. Can they reclaim their gifts, their fates, and their lives, and reset the balance of power in this world? Cyra is the sister of the brutal tyrant who rules the Shotet people. Cyra's currentgift gives her pain and power—something her brother exploits, using her to torture his enemies. But Cyra is much more than just a blade in her brother's hand: she is resilient, quick on her feet, and smarter than he knows. Akos is from the peace-loving nation of Thuvhe, and his loyalty to his family is limitless. Though protected by his unusual currentgift, once Akos and his brother are captured by enemy Shotet soldiers, Akos is desperate to get his brother out alive—no matter what the cost. When Akos is thrust into Cyra's world, the enmity between their countries and families seems insurmountable. They must decide to help each other to survive—or to destroy one another.
Everyone knows Veronica Roth after she wrote the infamous Divergent trilogy, and now she's back with a new series entitled Carve The Mark. Although it's still primarily a dystopian, Veronica seems to be trying new things as there are many sci-fi and fantasy elements included in this novel, with sources saying it's perfect for fans of Star Wars. Despite being involved in a few controversies online, I'm sure this novel will be a great one and many people have been waiting for it since Allegiant was released. This book was published on January 17th, so it's available for you to read now.
Always and Forever, Lara Jean (To All the Boys I've Loved Before, #3) by Jenny Han
Released on May 2nd 2017
Lara Jean is having the best senior year a girl could ever hope for. She is head over heels in love with her boyfriend, Peter; her dad's finally getting remarried to their next door neighbor, Ms. Rothschild; and Margot's coming home for the summer just in time for the wedding. But change is looming on the horizon. And while Lara Jean is having fun and keeping busy helping plan her father's wedding, she can't ignore the big life decisions she has to make. Most pressingly, where she wants to go to college and what that means for her relationship with Peter. She watched her sister Margot go through these growing pains. Now Lara Jean's the one who'll be graduating high school and leaving for college and leaving her family—and possibly the boy she loves—behind. When your heart and your head are saying two different things, which one should you listen to?
If you love a thrilling yet emotional contemporary novel like I do, then this is the perfect new release for you. Many of you may already be familiar with Jenny Han's bestselling novels To All the Boys I've Loved Before and P.S. I Still Love You, and this new novel will be providing an epic conclusion. Just from the synopsis, you can tell that it'll be eventful, with lots of important decisions being made that accurately reflect real-life. Although I can't predict if it'll have a blissful or heartbreaking ending, and we'll have to wait until May 2nd to find out, I'm sure this will be a wonderful read and round of the series in a perfect way.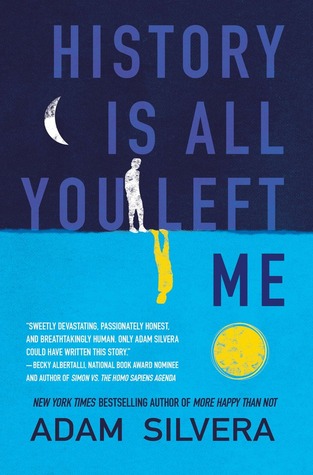 History Is All You Left Me by Adam Silvera
Released on January 17th 2017
When Griffin's first love and ex-boyfriend, Theo, dies in a drowning accident, his universe implodes. Even though Theo had moved to California for college and started seeing Jackson, Griffin never doubted Theo would come back to him when the time was right. But now, the future he's been imagining for himself has gone far off course. To make things worse, the only person who truly understands his heartache is Jackson. But no matter how much they open up to each other, Griffin's downward spiral continues. He's losing himself in his obsessive compulsions and destructive choices, and the secrets he's been keeping are tearing him apart. If Griffin is ever to rebuild his future, he must first confront his history, every last heartbreaking piece in the puzzle of his life.
Adam Silvera is an author that I'm familiar with thanks to Christine, Jesse, Kat and Natasha, and from what I've heard so far it seems like an excellent discovery. History Is All You Left Me, which was released on January 17th, appears to be an empowering and poignant read, focusing on coming to terms with tragic events in the past, opposed to letting them define you. It also explores important subject areas such as bereavement, the LGBT community and other topics that aren't frequently discussed in YA books. I'm definitely looking forward to reading this novel, although it seems like it'll be an emotional one!
RETELLINGS AND HISTORICAL FICTION LAUNCHES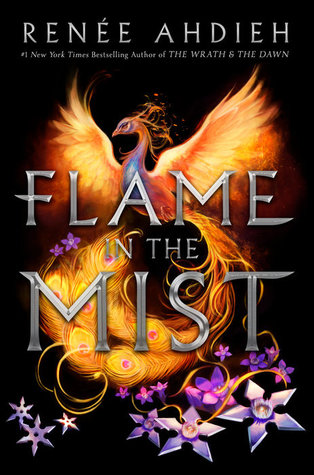 Flame in the Mist (Flame in the Mist, #1) by Renee Ahdieh
Released on May 16th 2017
The daughter of a prominent samurai, Mariko has long known her place—she may be an accomplished alchemist, whose cunning rivals that of her brother Kenshin, but because she is not a boy, her future has always been out of her hands. At just seventeen years old, Mariko is promised to Minamoto Raiden, the son of the emperor's favorite consort—a political marriage that will elevate her family's standing. But en route to the imperial city of Inako, Mariko narrowly escapes a bloody ambush by a dangerous gang of bandits known as the Black Clan, who she learns has been hired to kill her before she reaches the palace. Dressed as a peasant boy, Mariko sets out to infiltrate the ranks of the Black Clan, determined to track down the person responsible for the target on her back. But she's quickly captured and taken to the Black Clan's secret hideout, where she meets their leader, the rebel ronin Takeda Ranmaru, and his second-in-command, his best friend Okami. Still believing her to be a boy, Ranmaru and Okami eventually warm to Mariko, impressed by her intellect and ingenuity. As Mariko gets closer to the Black Clan, she uncovers a dark history of secrets, of betrayal and murder, which will force her to question everything she's ever known.
Renee is extremely well-known for writing The Wrath and The Dawn duology, which is a retelling of the classic tale A Thousand and One Nights, and now she's back with another retelling. Flame in the Mist is a retelling of Mulan, which initially excited me as it's a very powerful story with feminist traits, and so it'll be great to see it in a different light. I also think it'll be interesting from a historical standpoint, gaining an insight into Chinese culture and life, whereas many other YA releases are often Americanised. I'm expecting great things from this novel, and if you like the sound of it then it'll be available from May 16th.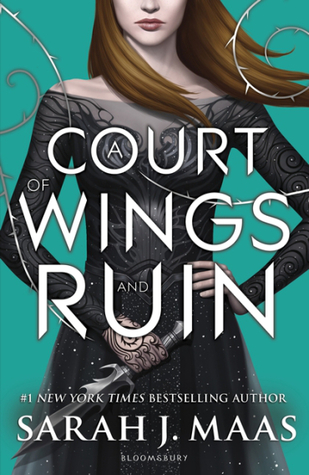 A Court of Wings and Ruin (A Court of Thorns and Roses, #3) by Sarah J Maas
Released on May 2nd 2017
Feyre has returned to the Spring Court, determined to gather information on Tamlin's maneuverings and the invading king threatening to bring Prythian to its knees. But to do so she must play a deadly game of deceit-and one slip may spell doom not only for Feyre, but for her world as well. As war bears down upon them all, Feyre must decide who to trust amongst the dazzling and lethal High Lords-and hunt for allies in unexpected places. In this thrilling third book in the #1 New York Times bestselling series from Sarah J. Maas, the earth will be painted red as mighty armies grapple for power over the one thing that could destroy them all.
This is the third novel in the A Court of Thorns and Roses series by Sarah J Maas, an author who is highly acclaimed and well-loved in the YA community. All of her work is incredibly gripping and detailed, and so many people are eagerly awaiting this release. The story is based around Beauty and the Beast with an urban fantasy spin, featuring faeries, magic and more. The release date is still fairly far away, being May 2nd, yet there are still plenty of positive words and reviews floating around the Internet, so this is definitely a must-read for 2017.
---

I hope that this post was useful and that I've managed to recommend some new books to read throughout 2017. All of these are really popular launches by notable authors, so if you'd like another post focusing on more obscure and underrated releases throughout the year, make sure you let me know! Thanks for reading and I'll see you again next Sunday!

Love from Daisy x